The Simple Faith Quartet is a gospel quartet in Leicester, NC with it's roots deeply rooted in the music of the Blue Ridge Mountains of Western North Carolina. This is reflected in our four part harmonies and acoustic mountain/bluegrass gospel style music.
The Simple Faith Quartet started singing around a piano one night at a friends house, after revival service held by Paul Sluder and Bill Brown at French Broad Baptist Church in Alexander, NC. It was in the late summer/fall in 1988. We learned a song out of the red back hymnal, "Glory To His Name". From that start we began to sing in our home churches, and were asked to come to other local churches, and sang locally, for the most part, for many years, at homecomings, weekend church singings, etc. The Lord just continued to open many doors, and has given us the opportunity to meet many wonderful people.
Some of our favorite times is in the many churches around the country in which we have been priviliged to sing. It doesn't matter whether the congregation is large or small, when the Master blesses the service with His presence, and begins to draw hearts and lives to Him, this is what really matters! This is the reason we started singing, and is still the reason we sing today.
The vocalists in the quartet on all available recordings are DeWayne Brown, Joseph Sluder, Stephen Brown, BJ Galloway and Jonathan Sluder. Four of these members stood together on stage since the inception of the quartet and enjoyed singing together for 29 years. BJ Galloway joined us on the Bass vocal and Mandolin in 2018, which is our 30th year anniversary. We have just released a new Hymn Recording, which is currently available. We are planning new recordings for this year, with a hope of recording a 30 year anniversary album.
The current quartet members providing instrument music are Caleb Sluder, Ron Taylor, Toby Crowder, and John Sams. Caleb, a young man from Leicester, NC, has been with the Quartet playing bass guitar since he was 12 years old. Ron resides in Candler, and plays the bass fiddle. He has filled in and helped this quartet for years. Toby, who resides in Burnsville, NC, has played bass guitar, guitar and mandolin since January 2017, and as a busy pastor continues to help as he can. John helps with bass, mandolin and rythmn guitar. DeWayne Brown plays guitar. Joseph Sluder plays guitar and piano. There have been several quartet members down through the years, including Jonathan Sluder of Leicester, NC (29 Years thru 2017), Chris Sluder of Leicester, NC, Ronnie Edwards of Arden, NC, Chad Edwards of Leicester, NC, Mark King of Leicester, NC, James Sluder of Leicester, NC, and Nathan Scruggs of Arden, NC. These are still dear friends, and we are thankful for the time they spent with this quartet.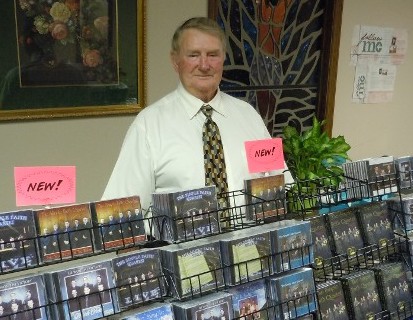 Last, but certainly not least, is Gerald Garrison of Leicester, NC, who traveled with our quartet starting in July 2007. Gerald graduated to Heaven to be with his Lord on April 1, 2014. He was our product manager, bus mechanic, and our biggest supporter. He was a vital part of our ministry and we are thankful for the time God allowed him to travel with us!
We're also blessed to have our wonderful wives and children who have supported, worked, and helped in any way asked of them. We were singing before any of us were ever married, but our wives have never tried to hinder our ministry, but have always been an encouragement! We love you all and absolutely could not do what we do without you!
May God Richly Bless You,
The Simple Faith Quartet